Messiah Chorus Of Lake County


Since 1949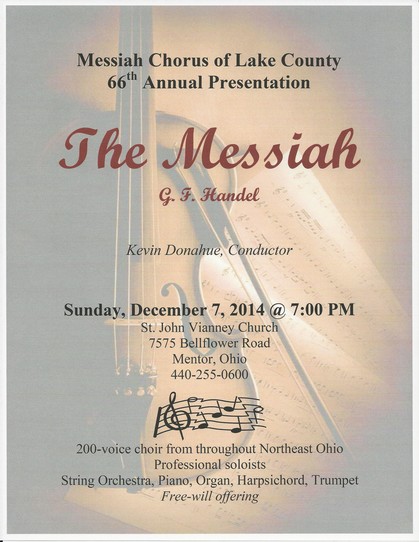 Welcome to the Messiah Chorus of Lake County website. This is a work in progress. We hope that everyone will sign up as members of the site. Thank you for your patience!
1) Click on Chorus Profiles (the tab in the upper left corner of the page).
2) Find your name and click on it.
3) Follow the instructions.
If you can't find your name, please send a message by clicking on Contact Us (the tab in the upper middle of the page), type in your request to join and your name will be added. We do not share your e-mail address with anyone.
Upcoming Messiah Presentation - December 2014
Performance: December 7, 2014, 7 p.m.
Location: St. John Vianney, Mentor
Dress Rehearsal: NOTE! Friday December 5, 7-9 p.m.
Location: St. John Vianney, Mentor
Weekly Rehearsals: Sundays, 1:30 - 3:30 on 10/26, 11/2, 11/9, 11/16, 11/23, 11/30
Location: Painesville First Baptist
Note: This year the dress rehearsal will be on Friday night due to a conflict at St. John Vianney on Saturday.
Soloists: All four soloists are confirmed for the 2014 performance (Joanne, J.R, Scott and Beth)
Volunteers: We will need more volunteers this year! Become engaged in this terrific group. Remember that volunteering during Messiah season is a short-term commitment! And we could sure use your help. Opportunities exist in publicity, patrons, sponsorships, program, ushers and offering, and the chairs committee.
We want your feedback! Please send your questions and/or concerns to Betsy at blackstone@roadrunner.com or to Kevin Donahue at Mus626man@aol.com.